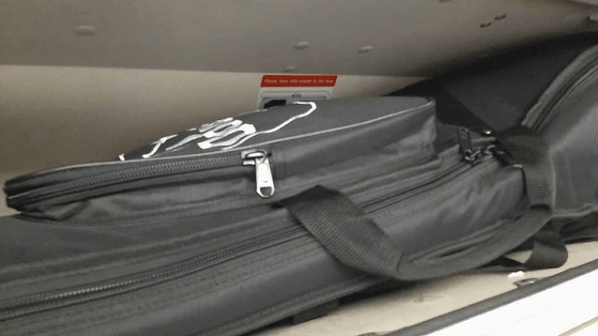 The small matter of a global pandemic hasn't deterred Kirsty Griffiths. She's taken her Odyssey harp well beyond her home base of Switzerland!
The singer and multi-instrumentalist has long worked at the heart of cultural outreach initiatives, such as the Myanmar Music Festival, the Myanmar Musician League, and Cultures in Harmony. She's taken her instruments – flute, fiddle, cello, harp – to China, Japan, South Korea, Nigeria, Cameroon, Tunisia, Tanzania, Turkey…and is currently sharing and learning music of different cultures with children in Kenya. "I can certainly assure you that you can easily take your Odyssey on a plane!", she laughs. "If you want more detail: it fits in the overhead bin of larger planes. For smaller ones, you can strap it to a free seat with a seat belt extension, or many planes have a storage cupboard in which it also fits. I've had no problems!"
Photo: It fits! In the overhead locker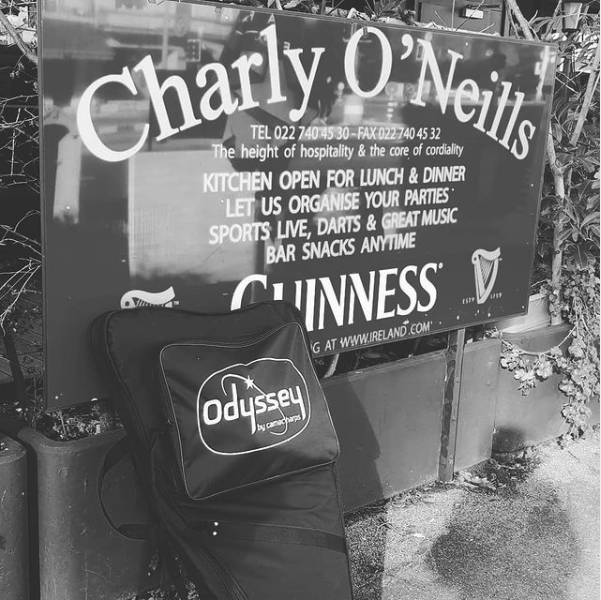 One of the Odyssey's first owners, not much escapes Kirsty's experienced eye! Over on her Instagram, you can watch her "unboxing" videos of new harps – including the Odyssey. These videos are great for you, and great for us; how better to optimise our products and services, than by hearing it straight from the client?
"I've had several small harps", says Kirsty, "and I'm really pleased with the Odyssey. It's got a huge sound, I've noticed the soundboard is much bigger than on other small harps of the same range. But it's still light, it's stable and it has the famous Camac levers."
Photo: travelling is thirsty work…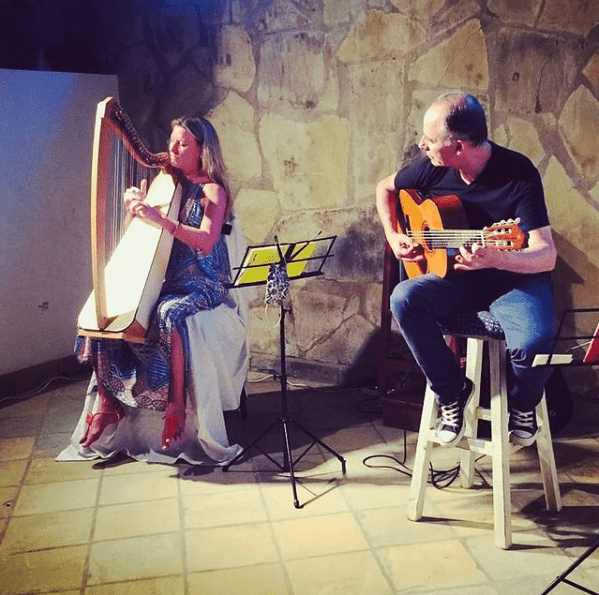 "It's honestly fantastic quality for the price. It's a pleasure to take with me on my travels; often, it's the first time the children have seen a harp, and I love watching their reactions. Its first concert was in Malindi, Kenya, with the guitarist Paolo Palmitessa.
The harp is the perfect instrument to bring music to people all over the world. It's independent, but also plays nicely with others…"
If you're going stir-crazy in your home office, look no further than Kirsty's social media for a window on the world beyond, and the feeling that anything is possible! We can't wait to see what she does next.
Photo: the Odyssey's first concert in Malindi, Kenya