Camac Harps
Odyssey by Camac is a small harp with big ideas. It's compact, light, and looks and sounds gorgeous. It's an ideal travel harp, a great choice for beginners, and the gateway to a community united by their love of the harp.

In the Odyssey universe, you'll also find a teach-yourself book to get started with your harp, a collection of sheet music specially arranged for its 27 strings. Come and join our adventure!

Configure your Odyssey
8 colours, a choice of heights, add levers or keep it simple…
Configure your harp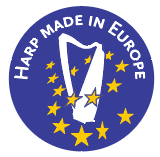 27 nylon strings
Weight: 12 lbs – 5.5 kg
Height: 39 inches – 99 cm
Low feet or high legs
With or without levers
Odyssey Collection
Our Odyssey Collection is full of sheet music, specially arranged for your Odyssey harp.
Clearly divided into three difficulty levels, there are pieces for harps both with and without levers. What better way to decide what piece you'll master next?
Accessorize, accessorize
Tuners, benches, strings, harp bags…
Sheet music made for your 27 strings
Inspiring recordings
and more!
Download your guarantee certificate
You can register your Odyssey harp online, and download your guarantee certificate any time you like. No more lost documents! 
Learn to play the harp
Want to teach yourself?
The Odyssey Method is your ideal guide!
Get to know your Odyssey
Tuning tips
How to position your fingers
Accompany yourself: discover chords
Understand levers
Change strings, no stress
A great starter choice of songs from around the world
Notation systems suitable for all levels of prior experience